In eager anticipation of the start of the 2007/08 English Premier League season on August 11, I've been doing some online research on recent summer acquisitions by English clubs. In particular, I've been reading up on
El Niño
(The Kid), Fernando Torres, a superstar striker from Madrid and lifelong supporter of his local club, Atlético Madrid. Up until last season, the talented 23-year-old had only played for Atlético, both on its youth and senior teams. But the great English club Liverpool, which is coached by a Spaniard (Rafael B
en
í
t
ez) and features superstar Spanish playmaker Xabi Alonso, recently signed Torres away from Madrid for a whopping £20.2 million.
I remembered Torres as the flashy, tattooed youngster who made quite the impression at last year's World Cup finals in Germany. Torres scored three times during the qualifying stages of the tournament (once against the Ukraine and twice against Tunisia). He celebrated each goal with a trademark gesture of dropping to his knees and raising his arms to the sky. The gesture almost tricked me into believing Torres was some Polynesian seafaring god.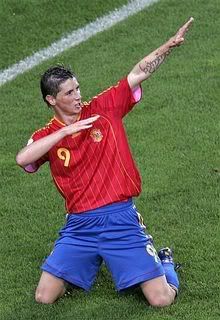 Torres was unlucky not to see Spain get past the now-revered plucky French side, led by Zidane, which eventually lost the tournament final to Italy.
Torres's record as a goalscorer at Atlético is no less impressive, amassing 82 goals in 214 appearances. For his pace, determination, and finisher's touch, Torres has attracted the attention of Europe's biggest clubs, hoping to lure him away from Madrid. But prior to the summer, Torres remained loyal to his local team and was seen as being an outstanding player on a consistently mediocre squad.
All this made me excited to see some footage of Torres's best goals from his years at Atlético. Naturally I turned to YouTube as my primary source of bootlegged, independently edited videos of great footballing moments. All I had to do was type Torres's name in the search engine and a list of results appeared almost almost immediately.
I had fun skimming the highlight videos, all of which showcased Torres's undeniable talent. But after watching several of these, I began to notice a recurring theme: along with the goalscoring, Torres was being celebrated for his equally undeniable hotness. The editing of these videos underscored his boyish good looks, displayed both on and off the pitch, and the soundtracks sometimes featured pop hits that were gushingly fawning, as in this example:
That was Avril Lavigne's "My Happy Ending," for the record. "You were everything, everything that I wanted / We were meant to be, supposed to be, but we lost it / All of the memories, so close to me, just fade away / All this time you were pretending / So much for my happy ending."
Watching this particular highlight video, which was posted on April 14, 2006, I couldn't tell if this fan was heartbroken (as the song in toto suggests), smitten (as certain lyrics could suggest), or just plain awestruck (the lyrics don't matter here; it's more about the depth of feeling Lavigne expresses in her singing).
Whatever the case may be, I have to say: I was taken in by this video. I was absorbed. I too began to realize that Torres was "hott," so to speak. (That's an added "t" for emphasis.) I don't know whether it's the beauty of the goals, the brashness of his youthful masculinity, the adoration he commands among the faithful. But this independent video-maker surely did the trick in turning me on to Torres.
Realizing this, I recalled that, in truth, most of the Spain national team from World Cup 2006 was quite good-looking. Not least was the versatile, long-haired defender Sergio Ramos, who had a great tournament until he ran into a France side that put three past Iker Casillas to move on to the quarterfinals. Here's a picture of Ramos at a press conference:
Ramos plays in the center of defense for giants Real Madrid (Madrid's big Other club). For a central defender, Ramos is unusually spry and a fine goalscorer. He's likely to figure as one of Real's mainstays as the club rebuilds over the next several years.
So after watching the Torres videos, it shouldn't be a surprise as to what I did next. I searched for "Sergio Ramos" on YouTube and the item at the top of the list was this:
Note that this video makes no pretense of being a highlight reel. It is an unabashed, adoring tribute to Ramos-as-hottie. No football footage; just photographs and stills of Ramos in all his beauty. And the soundtrack is the song "Everytime" by Simple Plan: "Everytime I see your face / Everytime you look my way / It's like it all falls into place / Everything feels right." These guys make Avril Lavigne sound like William Blake!
And yet. And yet I have to admit that there was something endearing about this video too, something that was just ecstatically passionate about its love for Ramos. (The video was, as its end credit notes, made by one "Eleninha.") It thus became clear to me that this video only literalized what the Torres ones kept mostly subtextual: whether male or female, real or hyperreal, fans have a passionate attachment to (sports) stars, and especially attractive Spanish footballers, that's expressed as a celebration of skill, determination, brashness, youth, and the male body all at once. These videos were, and are, technologies of desire.
Importantly, such desire does not have a proper "sexual" referent: "straight," "gay," or what have you. This is, rather, unbridled, object-confused desire; a confusion of desire. What
do
we find appealing about these sportsmen? Exactly
what
attracted me to Torres and Ramos? Again, a field of possibilities arises: technique, command, charisma, but also facial features, hair, and muscle. The "proper" response, then, might be: "All of these, and more."
**********
As if fate had been standing over my shoulder, looking at my laptop screen, I came across this video shortly after watching the Sergio Ramos tribute. Considering all that's been said here, I can only describe this as that final turn of the screw which seems to unlock the mystery of my desire for Torres and Ramos, only to shroud it with yet another veil of indirection.
I present the bilingual masterpiece: "Fernando Torres and Sergio Ramos: Which One Would You Choose?" (They are, it turns out, not just teammates but best friends.)
[Alvaro Jarrin briefly indulged my fascination with the Spain national team last summer. Maria Vaalavuo talked to me about her crush on Italy's Fabio Cannavaro on our travels during the Peruvian summer. I thank them both.]