Football365.com's end-of-season awards came out in
two
installments
in May, but I accessed them only recently through a link on
BigSoccer.com
. This huge online community of football, or soccer, fans throughout the world has provided me a great way to indulge my passion for the game, especially now that I don't have cable (Fox Soccer Channel). Thanks to Justin Izzo for pointing it out to me.
At any rate, here are a few of my favorite stories from the English Premier League 2006/07. (The "awards" are but named placeholders for recounting the previous season's highs and lows, oddities and surprises.)
Description Of The Season
*Winner: "I nearly swerved off the road. I yelled down the phone. I was so incensed. I was trembling with anger. I couldn't believe what I had heard" - Ashley Cole recalls his reaction to Arsenal offering to increase his wages to a paltry £55k per week.
**Runner-Up: "No maturity and respect, maybe difficult childhood, no education, maybe the consequence of that" - Jose Mourinho puts Footballer of the Year Cristiano Ronaldo in a different perspective.


Jose Mourinho Quote Of The Season
*Winner: "I always knew one day I would not be a champion" - Jose reflects on a strange year.
**Runner-Up: "It is like having a blanket that is too small for the bed. You pull the blanket up to keep your chest warm and your feet stick out. I cannot buy a bigger blanket becuase the supermarket is closed. But I am content because the blanket is cashmere. It is no ordinary blanket" - Jose refuses to be downcast by January's injury crisis.
Villain Of The Season
*Winner: Graham Poll. Wrecked more decent matches than a Fifties chaperone.
**Runner-Up: Cashley Cole. The embodiment of everything that is wrong with modern-day footballers.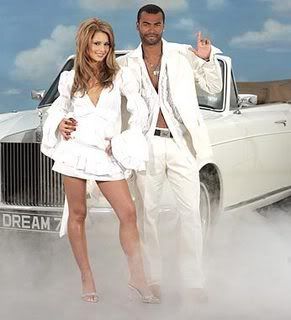 Injury Of The Season
*Winner: Preston winger Simon Whaley being ruled out for the rest of the campaign after attempting to heed a call of nature in the middle of the night during a mid-season training trip to Spain. Unfortunately he banged into a coffee table in his hotel room, which in turn resulted in the marble top of the table falling off and breaking his toe.
**Runner-Up: Everton's Tim Cahill suffering knee ligament damage after being inadvertently fouled by team-mate Lee Carsley in a match against Aston Villa.


Best Goal Of The Season Which Didn't Win The Goal-Of-The Month Award
*Winner: Thierry Henry's double act with Cesc Fabregas at Blackburn in January.

**Runner-Up: Matt Taylor's 40-yard volley against Everton a month before.
New-Fangled Sitting Position Of The Season
*Winner: The Eggert Magnusson - in which the sitter disappears lower and lower in his seat at the same rate as his side slide towards the bottom of the table before only the top of a shiny head appears, like the top of a boiled egg above the cup.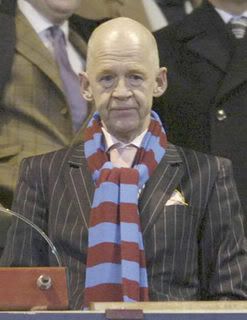 Money-Maker Of The Season
*Winner: David Beckham after signing a four-year deal with LA Galaxy worth a reputed £128m.
**Runner-Up: Alan Pardew, who reaped around £2m in compensation upon being sacked by West Ham in December and then signed a £4m contract with Charlton two weeks later. It's a tough life at the bottom of the table.