Ariel Levy (of
Female Chauvinist Pigs
fame/infamy) has written a
droll review
of the new edition of the bestselling how-to manual,
The Joy of Sex
. Originally published in 1972 by a British physician,
The Joy of Sex
was the Baby Boomers' middlebrow foray into the sexual revolution -- a handy, "mature" guide to making love with just the right amount of risk and set against the backdrop of normalcy.
Levy's review offers a helpful biography of the book's quirky author, Dr. Alex Comfort (ahem), whose Polaroid-captured lovemaking sessions with his mistress served as the basis for the illustrations in the book's first edition. The online version of the article also features a
slide show
of some of these illustrations, as well as their more progressive counterparts in the pro-woman
Our Bodies, Ourselves
(1971) and the new edition of
The Joy of Sex
.
I've done my own research and found websites devoted to the illustrator for the original book, Chris Foss. It turns out Foss, although best known for his work on
The Joy of Sex
, is also a well-regarded illustrator of science fiction book covers.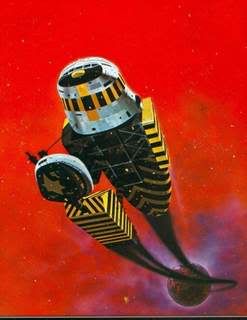 You can find examples of his colorful work
here
and
here
. Foss has even done a
bunch of covers
for French sci-fi books. All of which is to say there's something to be written about illustrators' role in the burgeoning paperback print culture of the 1960s and '70s. After all, like Foss's beautiful covers for Asimov and Le Guin, isn't part of the joy of reading
The Joy of Sex
taking in the how-to pictures?
Finally, the gem of the bunch: Foss's cover for the British edition of J. G. Ballard's
High-Rise
(1975). Here we seem to have the best of both worlds: sex and futuristic death.