Footballer. I'm a footballer. Or at least that's the dream I'm pursuing in signing up with an intramural indoor soccer team here at Duke. I responded to a mass e-mail calling for people who'd like to join a squad that needed players. Even though I haven't played soccer regularly for years, I knew this league was just for fun and recreation and so had nothing to lose in taking the plunge.
Our captain, Michael Albert, is a guy from the Business School. Our team consists of men and women from all over the graduate and professional schools and even includes a few undergrads. Because we were sort of thrown together at the last minute, Michael gave us a team name befitting our ragtag grouping: Identity Crisis.
I've written before about my abiding love for the game, especially as its played in the English Premier League. Even without cable since coming back from Peru, I continue to follow all the fixtures online and to obsessively track players' progress through my online Fantasy Football game. Well, the rec league at Duke has given me my first real opportunity to combine my fandom and vicarious knowledge of the game with sustained physical activity -- actually getting out there on the pitch and playing some football.
Not a very physical player the last time I put on the cleats and shinguards, I was a flatfooted defender in the years I played soccer as a kid. Since then, I spent several years as a competitive swimmer and water polo player, struggled through surgery in high school and college, took up tennis and racquetball, and, most recently, turned to long-distance running. Overall, I became more of a physical presence in my sporting pursuits, strengthening leg muscles through individual activities (swimming, running) and developing a sense of movement, strategy, and team-play in the other sports. While most of my footballing tactics will be derived less from experience and more from electronic observation (Fox Soccer Channel,
4thegame.com
, YouTube footballing highlights, the aforementioned Fantasy game), I'm ready for the challenge of indoor soccer.
As I prepare to take to the field (or the IM gym's floor, as it were), I hope to mold my play in the style of my footballing hero, the Basque Spaniard and Liverpool midfielder
Xabi Alonso
. Known as a "deep-lying midfielder," Alonso is not a holding or purely defensive midfielder per se (such as Chelsea's Claude Makelele or Milan's Gennaro Gattuso) but a playmaker who creates space for himself -- and thus his passes and long-range shots -- just behind the attacking midfielder (in Alonso's club, this would be the legendary Steven Gerrard). Milan's World Cup champion Andrea Pirlo is perhaps the world's best-known deep-lying playmaker. Other notables include Barcelona's Xavi and Roma's Daniele De Rossi.
The deep-lying midfielder is not a standout defender. He's an offensive threat who distributes passes from the defense up to the attacking midfielder and, of course, the striker(s). In addition to being an amazing passer, he'll try his luck with long-range shots and will, on occasion, venture into the penalty area to follow up on scoring plays (or, alternately, defensive mistakes by the opposition). You can see the range of Alonso's skills, typical of the deep-lying midfielder, in this video:
Having said that, I'm probably overstating my case when I say I think I can play this position in our rec league. For one, I lack the basic, day-in-day-out skills of a regular football player. And there's no doubt the deep-lying midfielder must possess a high degree of technical skill in order to be effective at his position. Furthermore, though I consider myself to be a decent passer of the ball, I'll have absolutely zero experience playing with my team before our first match. This is a bad omen, I know, but what can you do when the league starts during finals week? Finally, it's worth noting that indoor soccer takes place in a relatively small, enclosed space (where side walls are inbounds); the deep-lying midfielder works best when there's more space available and when his vision can open up defenses and pick out the free player. Indoor soccer simply doesn't allow for that degree of open play.
Enough fantasy strategizing for now. But on to a related topic about fandom and identification. It has occurred to me that even though Alonso is my idol, when I do take to the gym floor in my blue Target-bought kit, I'll bear a resemblance not to him but to some other Premier League footballers with whom I share certain features. Phenotypically, I may have more in common with Eintracht Frankfurt's
Naohiro Takahara
or Tottenham Hotspurs'
Lee Young-Pyo
. I don't recognize myself in them, however. Something about my mixed ethnic heritage makes me look more like:
Arsenal's talented left back, Frenchman Gael Clichy
Manchester United's sidelined defender Mikael Silvestre, another Frenchman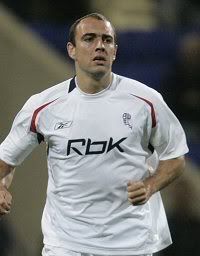 Former Villain and current Bolton sub Gavin McCann (a holding midfielder)
Theo Walcott, Arsenal's young forward and one player on whom England is hinging its hopes of national football revival (after crashing out of Euro 2008)
Bolton's substitute goalkeeper, Ali Al Habsi, from Oman
Liverpool's stalwart shot-stopper Jose Reina
And yet another goalie, and perhaps the closest thing I have to a doppelgänger in the Premier League, Everton's and the US national team's Tim Howard
Vote for your favorite candidate for my lookalike, or tell me I'm crazy with all of my choices. I'm an aging athlete, I know, and some of these lads are in the prime of their careers. But I figure it's never too late to start.