The Triangle's own
News & Observer
blog Bull's Eye reports that Jenna Bush's father-in-law-to-be is a Durham native. I admit that when I read the headline for
this entry
, I immediately thought it was referencing porn icon Jenna Jameson, not Jenna Bush. Perhaps it was the use of the word "daddy-in-law." (As in "sugah daddy"?) Or maybe I was grasping for a more interesting subject than the daughter of our current president. (Jenna Bush is one of those girly girls who strikes me as neither Lindsay Lohan "mean girl" nor Anne Hathaway "girl with class" -- she's just...
blah
, nothing to write home about.)
So Jenna Bush is getting married to the son of a North Carolina/Virginia Republican politician. Big deal. Let's get back to Jenna Jameson.
Now I have to admit that I was pleasantly surprised after reading Jameson's autobiography,
How to Make Love Like a Pornstar
, around this time last summer. Published in 2004 by the controversial HarperCollins imprint
ReganBooks
, which was
discontinued by the publisher
in 2007, Jameson's book is probably the most engaging tell-all sex memoir to appear in U.S. bookstores since the publication of Linda Lovelace's
Ordeal
in 1980. The book became an instant bestseller and confirmed Jameson's stature as the world's most recognizable porn star.
How to Make Love
follows the classic sex autobiography script: from (childhood) innocence to adolescent folly to hitting rock bottom and, finally, on to that exemplary moment of redemption -- seizing control of one's life, owning one's sexuality, and marrying your co-star. What makes Jameson's autobiography so intriguing is that it knows the conventions and serves them up with equal parts salaciousness and knowing self-parody. It should come as no surprise, then, that in between descriptions of various sex acts and drug-induced episodes of criminal activity, Jameson's memoir is divided into six "books," all of which are titled after a quotation from Shakespeare: for example, "The World's Fresh Ornament" (Book I), "An Imperfect Actor on the Stage" (Book IV), "The Gentle Closure of My Breast" (Book VI).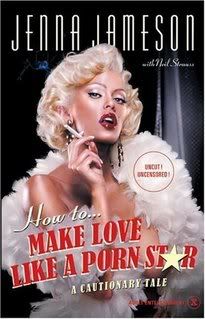 As I fondly recall
How to Make Love
on this steamy end-of-summer day, I can only speculate that the soon-to-be Mr. and Mrs. Henry Hagen (does he at least go by "Hank"?) wouldn't know how to make love interesting (much less like a porn star) even if the manual were to fall in their laps. Cheers, then, to Jenna Jameson for being as bad as she wants to be. Whatever your moral or spiritual views of pornography, there's no denying a certain savvy, even maturity, about Jameson that contravenes the (effectively) arranged marriages that flourish among America's wealthy elite.